"SUNSET BOULEVARD!" I remember thinking when I first saw the house back in 1976. Sadly neglected and half-buried in scraggly trees and vines, the Mission Revival structure drew me many times with its sagging "Hollywood" awnings and never a sign of life or change. I monitored it for three years, waiting for a "For Sale" sign. Finally, I wrote a letter to the owner saying that if he ever wanted to sell the house, I would be interested in preserving it and saving it from the massive redevelopment that was sweeping the area of Vancouver on which it was perched. Ten years after that I received a phone call from the original and only owner and the deal was done.
That was five years ago. Today my partner, Brent Beattie, and I have created a Mediterranean-style garden to go with the house's architecture, complete with pockets of woodland and a large terrace from which to enjoy the spectacular views of Vancouver's harbor and backdrop of mountains. Because we live in a temperate rain forest where lumber has always been plentiful, most of the larger homes in Vancouver are Tudor style, combining shingles or wooden siding with stucco. Gardens favor rhododendrons and the English border look. Moving into this type of house gave us the opportunity to create an atypical Vancouver garden and to experiment with many plants hailing from warmer climes.
Our half-acre lot is triangular and is anchored on one corner by a grove of 60-foot-tall Chamaecyparis lawsoniana, which creates a shady glen and adds a Tuscan flavor to our overall presence on the street. The trees also serve as a windbreak, and help make the garden a microclimate, even in our mild USDA Zone 8. Within the grove is an old garden pond fringed by erythroniums, ferns, hostas, and primulas. I call this area the "Last Frontier" because it is in a fairly public corner of the property and seldom receives any attention.
The grassy slope leading from the pond toward the house is bordered by a curving bed containing the spectacular purple-blotched white tree peony 'Joseph Rock' and dozens of 'Casa Blanca' lilies, with bronze fennel planted in between. In front of them is the purple-tinged Euphorbia dulcis 'Chameleon', with Heuchera 'Palace Purple' and the beautiful Polygonum 'Langthorn's Variety', which has black and red chevrons on its silvery green leaves. I remember it was tough for me to cut a circle in this pleasant lawn area in order to put in a tree that I have always wanted. Reluctantly I made it, and planted an unbelievably small Cornus controversa 'Variegata'. It is the perfect place for this dogwood, though it may be 15 years before it looks like anything more than a twig.
One of our first tasks when we arrived was to remove a 20-foot Colorado blue spruce that was growing smack in the center of the yead and put in a front walk. This T-shaped approach to the door is particularly welcoming because the square, colored concrete pavers are interplanted with woolly thyme, which stays evergreen here and smells terrific when you step on it. On either side of the sunny path I have established plants that I can enjoy as I dash off to work at our nursery or gift shop. I especially like combining foliages for wacky, surprising effects. Delicate emerald balls of Hebe cupressoides nestle up to chunky blue echeverias, which I overwinter in a cool greenhouse. The glaucous, fringed leaves of my favorite foliage plant, Melianthus major, back the Oriental poppy 'Marshall Vandergoltz', which bears big single white blossoms with black blotches. Bold Yucca recurvifolia adds drama and creates a hot, desert look, while blue, gray, and mauve-colored plants fill out the beds on either side. In one part of the front border, what was once a six-inch root cutting of Matilija poppy (Romneya coulteri) is now a 10-foot-square clump, its floppy white blossoms joining the fragrant pink flowers of Crinum X powellii, many dieramas, and the graceful wands of Stipa gigantea in a mid-summer explosion of color. Areas closer to the house are filled with Euphorbia characias subsp. wulfenii, which sprouts everywhere and must be pulled out in handfuls. Euphorbia X martinii is better behaved and is joined by the beautiful, beet-colored Anthriscus sylvestris 'Ravenswing', one of my favorite foliage plants.
I also have made use of the hardiest palm for us, Trachycarpus fortunei. I placed a 12-foot clump of three out on the lawn to further the Hollywood look of the house; several others dot the terraces and the bed near the door, looking very much at home. An enormous old climbing rose that was here when we moved in covers half of the front of the house. I remember thinking what a nightmare it would be to remove if it were a red variety, as we had just painted the formerly white building a startling salmon color. Luckily the rose bloomed the next year–a pleasant, neutral white–and now I cannot imagine the house without it. In front of the rose, I retained an existing golden cypress hedge, though I lowered its height to about three feet. Visually it balances the "Desert Border" on the other side of the walk.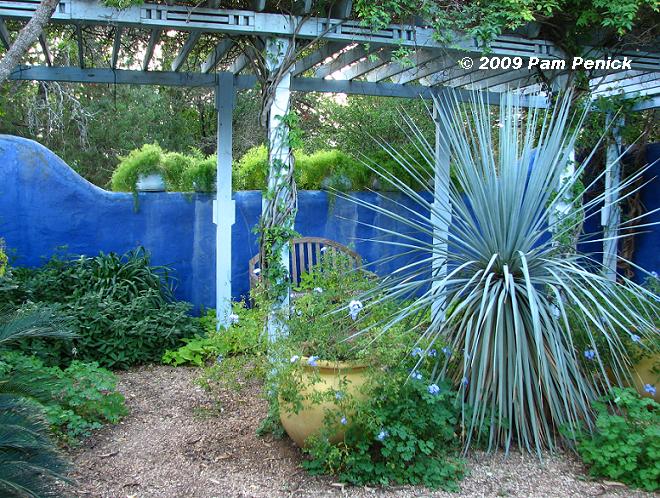 A natural gateway to the back of the house is a 60-year-old fig tree that produces two delicious crops a year and is another of the garden's few original plants. Nearby I have a collection of peonies that bloom in late May in shades of apricot and peach, which remind me of those from my childhood in much colder Winnipeg, Manitoba. The most incredible of them is 'Coral Sunset', whose 10-inch, double, golden melony peach blossoms are borne on sturdy stems. Others include 'Coral Supreme', 'Coral and Gold', and 'Pink Hawaiian Coral', backed by my favorite David Austin English rose, 'Leander', a six-foot mound of peachy-coral, fragrant, old-fashioned-looking blossoms on the most disease-resistant, repeat-blooming bushes imaginable. Also in this border are a few plants of Artemisia 'Powis Castle' for winter body and color, several polygonums, peach-toned hybrid daylilies, and self-sown astrantias, euphorbias, and the seemingly Roundup-proof Lysimachia clethroides, a mistake that pops up everywhere. I have come to ignore it and let it bloom amidst everything else.
The terrace behind the house is made with the same pavers as the front walk, set on sand and bordered on all sides by plantings. We built it to take advantage of the view of the city and the mountains by raising the ground 11 feet and putting in concrete retaining walls. Previously this area was a severe cliff that supported a blackberry jungle. Now it offers a somewhat glamorous planting area for more exotic foliage and for pots. I like combining silver foliage plants such as the beautiful Centaurea cineraria with peach-colored diascias, blue scaevola, and ornamental grasses in handmade Tuscan terra-cotta pots. I have found it effective to use grasses in the center of pots the way many people use a dracaena or a cordyline. This year I used Stipa tenuissima with blue and gray foliage plants as my "annuals." Blue-gray Mertensia asiatica is ideal for trailing over pot edges and offers its light blue tubular blossoms continually if given lots of water. It also is much more slug-proof in a pot than it is in the ground.
Another major change we made was to add a conservatory. I have always grown orchids, and a walk-in orchid house fit perfectly on an existing raised terrace off of the living room. Here I tend my collection, hybridize paphiopedilum orchids, and overwinter tender favorites from the outside plantings.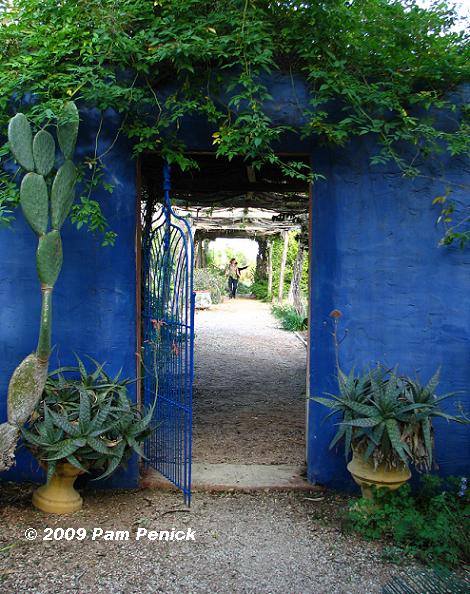 From the back terrace the garden continues around to the third side of the house via a shady narrow pathway lined with cardiocrinums, hellebores, martagon lilies, and double primulas. These bloom beneath the three double white Japanese cherry trees (Prunus serrulata 'Shirotae') I planted to block out the view of the neighbors. This is where I abandon my Mediterranean theme and grow whatever won't fit in elsewhere, A sunny unused stairway holds a collection of sedums and sempervivums in clay pots. Nearby where there is more sun, I have planted terra-cotta and peach-colored bearded irises with the soft blue lacecap hydrangea 'Mariesii Variegata', backed by golden hop (Humulus lupulus 'Aureus'), which climbs the salmony walls of the house. This peach, blue, and chartreuse color combination typifies my philosophy of limiting the palette of colors in any one group to three.
Owning our own nursery gives us access to new varieties and allows us to test, propagate, and share exciting plants with our customers. I often use home as a trial ground for hardiness, and have kept such supposedly tender plants as Eucryphia Xnymansensis, Fremontodendron californicum, and many osteospermums and echiums in the garden with no losses to cold. Since I was four years old, experimenting with plants has been my obsession, and this garden has been an excellent outlet for that. Its design has never involved a pen or paper. Instead it has consisted of walking around with a plant in hand and a vision of Norma Desmond coming down the front staircase.